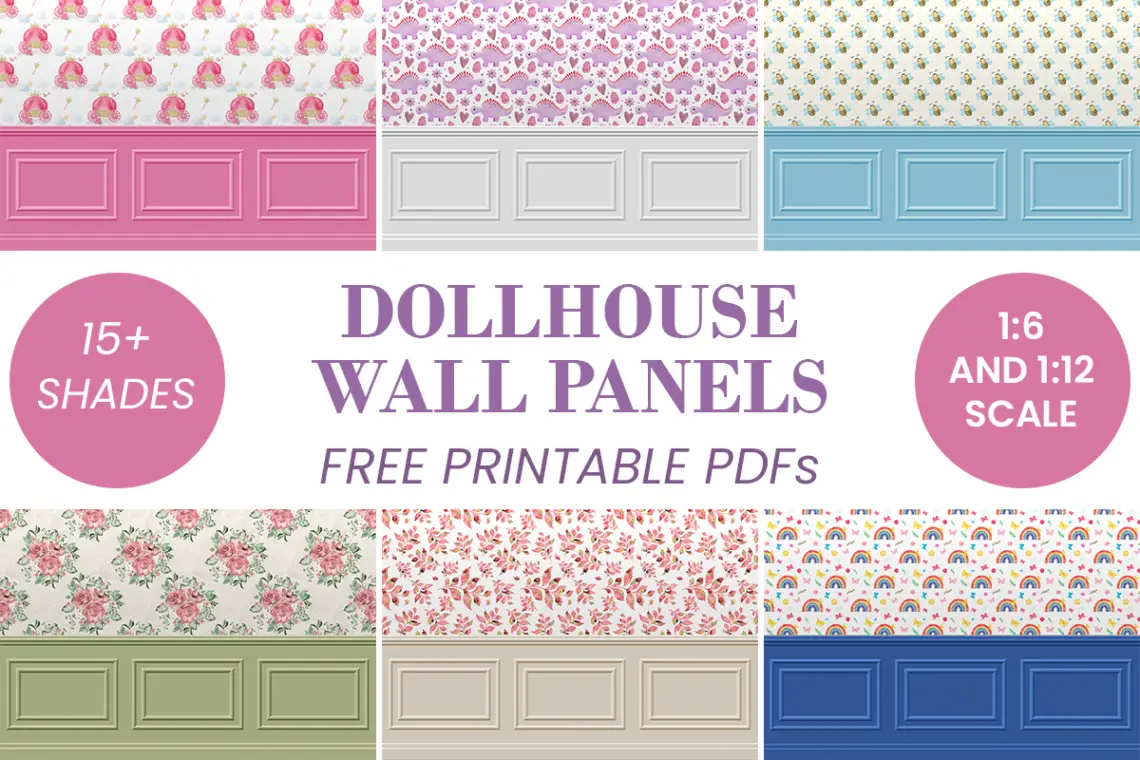 Dollhouse Wainscoting Wall Panels – Free Printables
Looking for a simple way to add style to your dollhouse decor? These free printable dollhouse wainscoting wall panels make it easy to turn plain walls into something special and make your miniature rooms look real. The wall panels also make it easier to find wallpaper that is the right height for the 1:6 scale dollhouse by adding extra height.
There are more than 15 shades of beautiful fresh colours to choose from.
Each PDF of the dollhouse wainscoting wall panels comes in both 1:6 and 1:12 scale. You can choose US letter and A4 paper size to suit your printing needs.
Whether your dollhouse is traditional or more modern, you are sure to find a wall panel in a shade to suit your needs. Make sure to check out my free dollhouse wallpaper printables and dollhouse windows printables to complete the look.
For best results print the wall panels on cardstock, preferably 200gsm. You could also use 176gsm but 200gsm is preferred.
Sizes:
The 1:6 scale wainscoting wall panels are 12.5cm (5″) high.
The 1:12 scale wall panels are half that at 6.25cm (2.5″) high.
Instructions:
Download the zip file of the design you like below. Extract the zip file and inside you'll find PDFs in A4 and US letter size and the designs in 1:6 and 1:12 scale.
Printing and installation instructions are also included in the zip file with some notes on glue choices.
Download the Dollhouse Wainscoting Wall Panel Printables
Are you making your own DIY dollhouse? Make sure to check out my article on how to make a DIY dollhouse for Barbie and Blythe dolls. You'll find dollhouse plans, advice on materials to use, and tips on how to make your dollhouse more portable. I also have other dollhouse printables available to download.