How to make a DIY Dollhouse for Barbie dolls
A DIY dollhouse for Barbie and Blythe dolls can be made in a number of ways to suit your skill level and budget – from a converted shelf for an easy DIY project to an elaborate mansion built from scratch. When choosing materials you should consider the size and weight of the finished dollhouse. A multi-level dollhouse in Barbie and Blythe's 1:6 scale is quite a large piece of furniture and can take up a lot of space in your home. If it's made of wood it can also be very heavy. Cardboard and foam-core dollrooms offer a lighter and more portable option.
This article provides an overview of things to consider when building your own 1:6 scale dollhouse:
Choosing materials
Dollhouse plans for 1:6 scale dolls
Where to find 1:6 scale dollhouse plans
Wooden dollhouses
Types of glue to use
Cardboard dollhouses
Easy dollhouse makeovers
Making dollhouse rooms rather than complete dollhouses.
Choosing materials for your DIY dollhouse
Your DIY dollhouse can be built using a variety of materials, such as durable plywood, lightweight foam-core board, or recycled cardboard packaging. A cardboard dollhouse probably won't last long enough to become an heirloom but it's a lot easier to make and move.
Factors to consider in your choice of materials include:
How much do you want to spend?
Do you have access to power tools or will you be cutting by hand?
How much carpentry experience do you have?
Do you know how to use power tools safely?
How much time do you have to make a DIY dollhouse?
How long do you want the dollhouse to last?
Will you need to move the dollhouse often?
Will you be able to lift it when it's finished?
Once you've finished your DIY dollhouse, make sure to check out my dollhouse printables.
DIY dollhouse plans
It's a good idea to draw up plans before you start cutting out your dollhouse pieces to minimise the risk of wasting materials. You can also make inexpensive templates from paper or poster board to ensure the pieces fit together.
If you're using somebody else's dollhouse plans, make sure they are at the correct 1:6 scale.
The most common dollhouse scale is 1:12, which is too small (Barbie and Blythe dolls are 1:6 scale, about double the size).
If you're not sure what scale the dollhouse plans are designed in, check the height of the main floor or a door. If the ceiling height is between 8–10 inches (20–25cm) or the door height is around 6-7 inches (15–17cm), it is most likely the dollhouse is 1:12 scale and won't be high enough for Barbie and Blythe.
A guide to scale
| | | |
| --- | --- | --- |
| Human scale | 1:12 scale | 1:6 scale |
| 12 inches/1 foot (30cm) | 1 inch (2.5cm) | 2 inches (5cm) |
1:6 scale dollhouse plans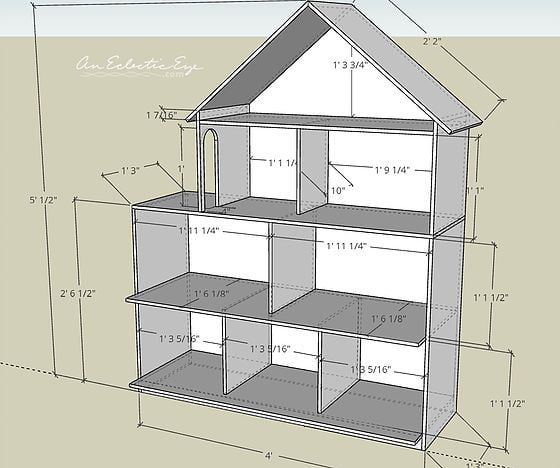 Penny from An Eclectic Eye has shared plans for a DIY dollhouse for Barbie dolls. It's made out of ½" plywood and looks very spacious. I especially like how she has created 'doorways' between rooms at the front of the house so you don't need to cut them out.
You can also find detailed plans and instructions at Houseful of Handmade. Made out of plywood, the finished dollhouse is 4' tall. I think it's a brilliant idea how they have added wheels so the dollhouse can be moved more easily.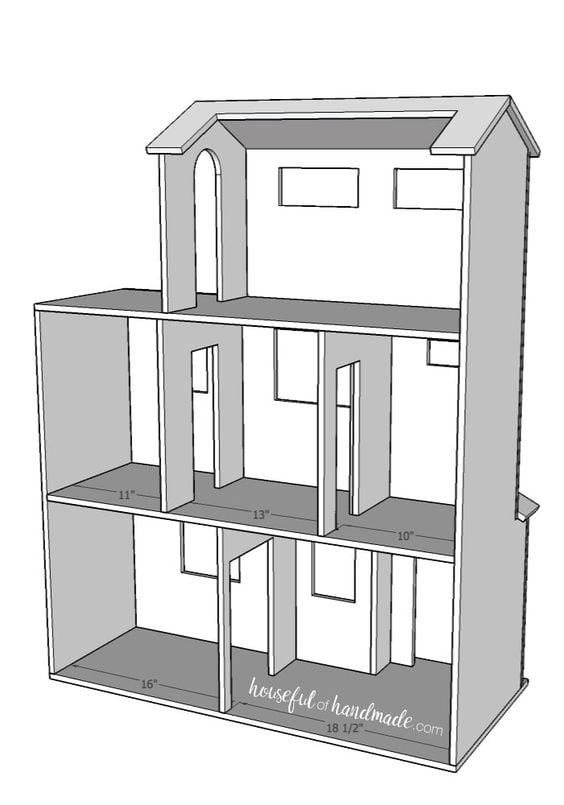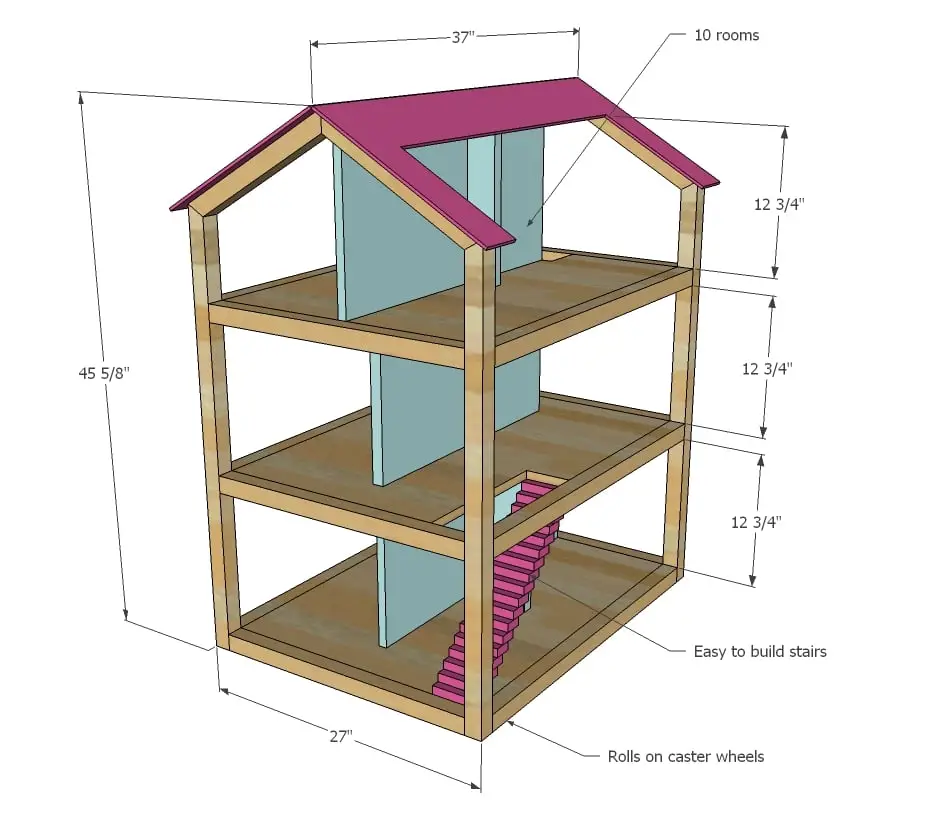 Ana White's dollhouse plans for 12″ dolls make an open plan, 'Scandy' style dollhouse out of plywood. I love the shingled roof! Ana built hers using less toxic plywood manufactured from soy.
All Things Thrifty's plans are for a DIY dollhouse that measures 4' by 3 ½ feet wide. They used two ½" sheets of MDF to make a very inexpensive dollhouse. Built out of necessity when all the Dream Houses were sold out at Christmas, it worked out to be a thrifty alternative indeed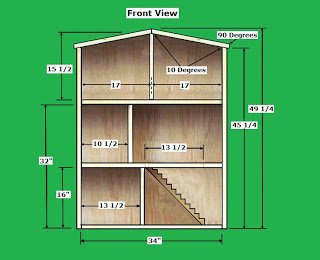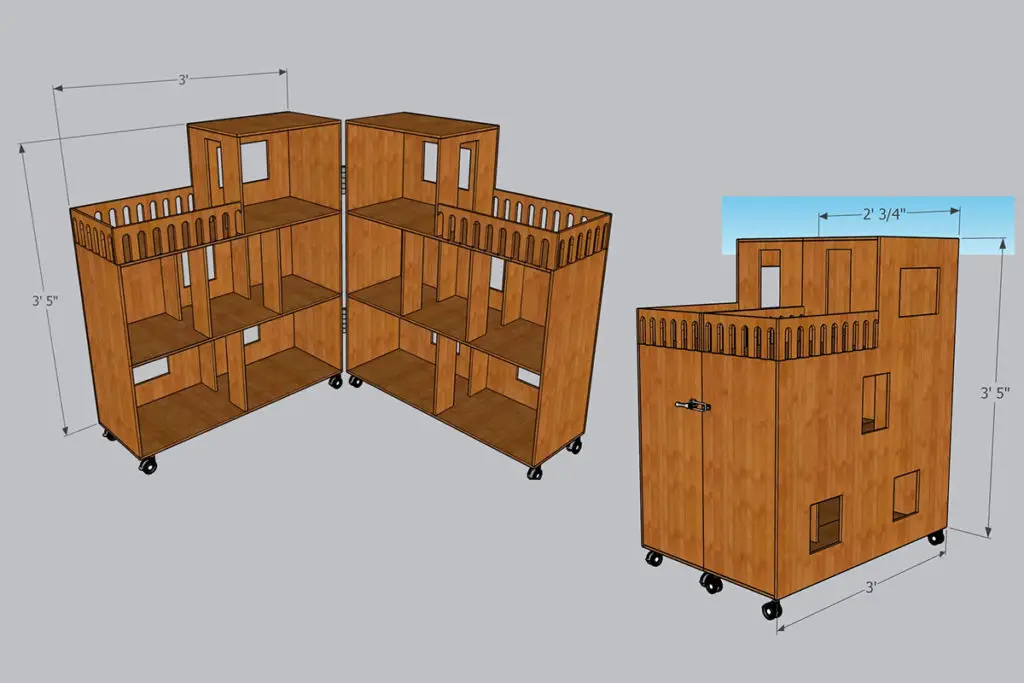 I really like how this dollhouse folds away neatly (and is on wheels!). I think it could be improved by changing the internal doorways to be more like An Eclectic Eye's version above with gaps at the front rather than in the middle of the internal walls. I'd also remove the dividing railings on the rooftop terraces so that when the dollhouse is closed it can be used for a pool or garden area.
Wooden DIY dollhouses for Barbie and Blythe
Wooden DIY dollhouses are commonly made of inexpensive birch plywood or MDF sheets. These 'constructed' woods can emit toxic gasses so make sure you seal and paint them well. There are also less toxic, soy-based plywoods available.
You will need a saw to cut the walls and roof pieces to size.
The wooden pieces can be nailed together or glued using a strong wood glue.
Types of glue to use
Miniatures.com has a handy guide to help you choose the right glue for your DIY dollhouse. For wood/MDF they recommend Weldbond, a non-toxic product that works as a glue and sealer.
DIY wooden dollhouses will need to be sealed with a primer before painting or wallpapering.
A wooden dollhouse will be heavy once it's constructed so either make it where it will be used or plan in advance how you will move it when finished. Adding wheels to the base makes moving the dollhouse easier.
DIY cardboard dollhouses for Barbie and Blythe
DIY dollhouses can be also built with sturdy cardboard. Cardboard is easy to work with – you can cut it with an xacto knife or box cutter blade. Recycled packaging from whitegoods is an ideal material for building a dollhouse – it's super strong, very lightweight and virtually free!
Did you know the first Barbie Dream House was made of cardboard and was fully portable. Check out this cute video of the 1961 Dream House Commercial.
Fun_and_craft made a very detailed Barbie dollhouse out of a cardboard box recycled from dishwasher packaging. She also uses foamboard for the windows and doors. Watch her video below.
Easy DIY dollhouses for beginners
If you don't want to build a dollhouse from scratch, an easier alternative is to makeover a purchased dollhouse. You can often find cheap secondhand Barbie Dream Houses for sale on Facebook Marketplace. If you're really lucky you might be able to pick one up for free.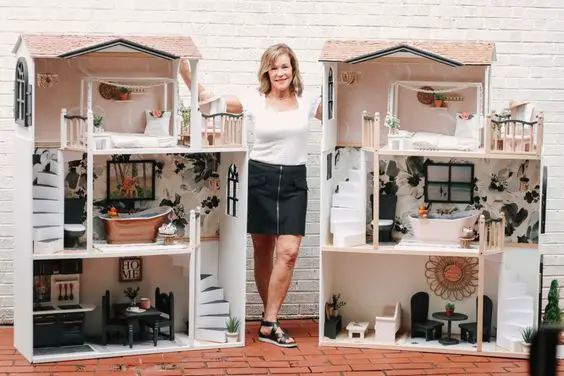 Another option for beginners is to convert human-scale shelves into a dollhouse. I like to use open-backed shelves so I can add lighting and walls with windows. Make sure the shelf is wide enough to create usable rooms.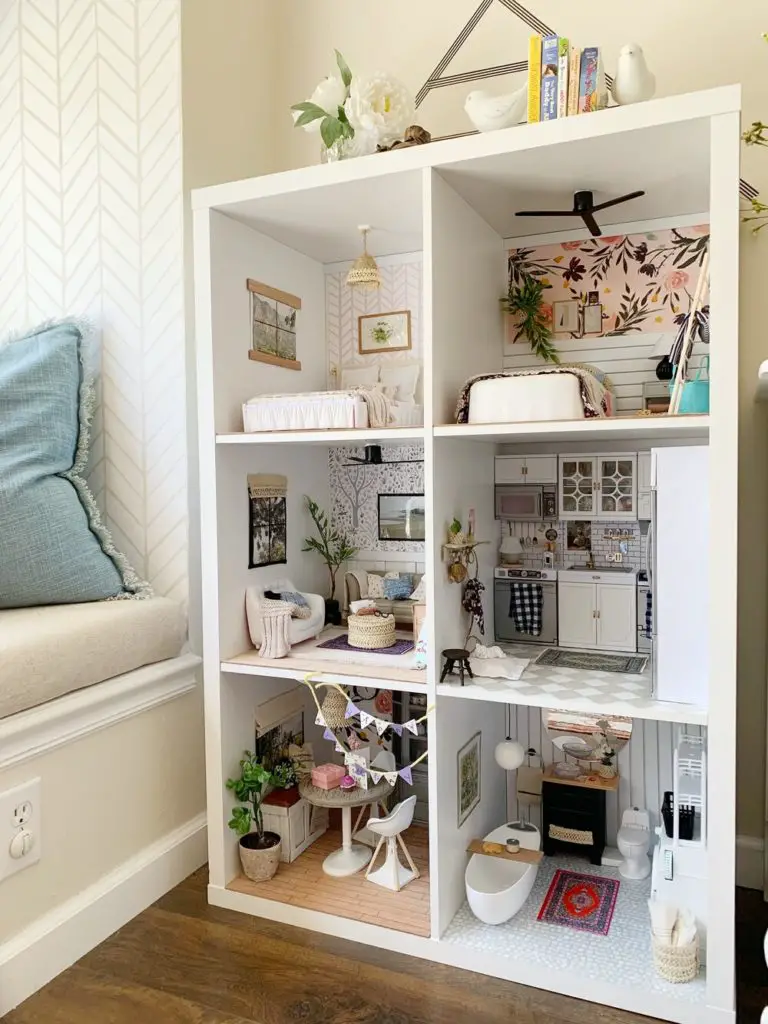 Hartley Home has an in-depth tutorial on how she made her DIY dollhouse in a cube shelf unit. I really love the decor. Ideally I would prefer the central walls to be removed for a more 'open plan' layout.
For safety reasons, secure the shelves to the wall.
DIY dollhouse rooms
DIY Dollhouse Rooms are a space saving alternative to building a complete dollhouse. They can also save you a lot of money. Consider whether you really need a whole dollhouse.
A dollhouse room can often provide enough space for creative expression and imaginative play. Plus, they can be stored away more easily once play has finished.
There are a variety of options for making your own DIY Dollhouse Rooms. Listed below are some common materials used to make DIY Dollhouse Rooms:
Cardboard boxes with sufficient height clearance for your dolls
A2 sheets of sturdy poster or Kraft board, taped together to form a corner
Tri-fold foam board displays
Plywood or MDF, cut and glued into a 3-sided box.
Dollhouse rooms don't have to be a complete 'room' with four walls. Usually the front is left open to make it easier to access and view the interior.
Ensure the room has adequate lighting for clear shots if you're using the dollhouse room as a photography background.
Foam-core dollhouse rooms
I like to use inexpensive tri-fold foam board displays for my doll photography backgrounds. I can switch them out to create different looks and fold them away afterwards. Since there is no ceiling I can shine light on the scene from above.
To make it easier to store your dollhouse room, you can keep the floor separate so it folds away flat. I like to use A2 sheets of 700gsm Kraft board for my floors. They are inexpensive to buy in bulk and I can create a variety of floor finishes. Another option for flooring is to use human placemats.
If you follow a tutorial on how to make a DIY Dollhouse Room, make sure you check that the scale is correct for your dolls or adjust the size where needed.
DIY dollhouse kits
DIY Dollhouse Kits available to purchase tend to be too small for Barbie and Blythe and are designed for display purposes rather than play. They are also generally not suitable for small children as the kits contain small parts that pose a choking hazard.
They do provide a good source of inspiration for how to decorate your own DIY dollhouse. There are many videos on youtube of people assembling DIY dollhouse kits. Use them for ideas on how to create furniture and furnishings from scratch.
---
Making your own DIY dollhouse can be very fulfilling as you get to design everything how you want. I hope you found this article useful. I'd love to see your dollhouse creations.
Looking for inspiration for your DIY dollhouse? Check out Barbie's Dream Houses through history.